Appearance
Edit
A basket of five Funghi talking to each other. In Mushroom Garden Deluxe this is called Nameko Mix
Description
Edit
Mushroom Garden
"A basket filled with
Funghi. Makes for a
great present."
Mushroom Garden Deluxe
CLB-16

"Always breaking out,
except when asleep.
Recently learned
to do teamwork.

(?)

"
NEO Mushroom Garden
"Size M. It can call on other to Super Size it. But usually few leaves and become Size S."
Theme Comments

Frisky Field: "Gotta keep an eye out."
Hush Hospital: "Not going any where."
Merry Christmas: "Nice present isn't?"
Funghi Onsen: "Sharing soap and shampoo."
Funghi Hinadan: "Plays in dis-harmony."
Chara Pafe Cafe: "Likes the cup. Such a nice fit."
Tohato Paradise: "Paradise was here all along."
Bike Rider: "Tired of rowing and chilled instead."
The Battle Cats: "More mobile, more escaping."
Walk-A-Funghi
"Every ingredient
is kept in the basket.
So, it gets stepped
on by the time it gets
home."
Lures (Walk-A-Funghi)
Edit
Click [Expand] to open collapsed information.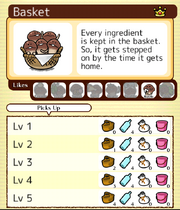 Okonomiyaki -

10,

8,

5,

5,

3
It contains spoiler of NEO Mushroom Garden.
Click [Expand] to open collapsed information.
Personality : Merry
Skill : Runaway
Favorite Line : Heaped
Favorite Place : Department Store
Charm Point : Stuffiness
Weak Point : Wrapping Paper
Favorite Play : Musical Chairs
Curious About : Basket Bag