Capless is one of uncommon variation of Funghi.
Appearance
Edit
Appears to be a literal Funghi without mushroom cap.
Description
Edit
Mushroom Garden

""Cap or no cap, I'm
a true-blue Funghi!"
He always says so."

Mushroom Garden Deluxe

CLB-09

"Has no cap, but is
the slimiest of all.
AKA "Stem Funghi."
I just made that up.

(?)

"

HLW-13

"That's too much!!
Are you trying to be
some sorta comedian?
Wow... 5☆."
NEO Mushroom Garden

"Was almost eaten as a cashew
when he was curled up in bed.
That finally broke his will."
Theme Comments

Beached Shore : "The sun is too bright with no cap."
Frisky Field : "Looks lively as ever."
Cafe d' Funghi : "Like a sir."
Tohato Paradise : "BEANO delicious! Like a bean."
Lures (Walk-A-Funghi)
Edit
Click [Expand] to open collapsed information.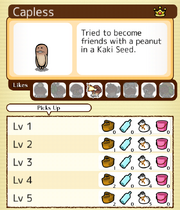 Kaki Seed - 5, 3
Seaside Ramen Noodle - 7, 2, 3, 8, 2
Seafood Cheese Pilaf - 10, 5, 10, 5, 5, 2
It contains spoiler of NEO Mushroom Garden.
Click [Expand] to open collapsed information.
Personality : Prideful
Skill : Act as a Cashew
Favorite Line : Simple is the Best
Favorite Place : Hat Store
Charm Point : Rounded Head
Weak Point : Using Umbrella
Reads : Self-Awareness
Feels Awkwards : Wooden Bat
Ad blocker interference detected!
Wikia is a free-to-use site that makes money from advertising. We have a modified experience for viewers using ad blockers

Wikia is not accessible if you've made further modifications. Remove the custom ad blocker rule(s) and the page will load as expected.