Fauxghi is one of the uncommon variation of Funghi.
Appearance
Edit
Fauxghi is a Funghi look-alike with great resemblance to it. The only notable differences are its grinning-like expression due to its 'split' cap. Its mouth appears to be slit together with its cap.
Apparently, he impersonates Funghi the whole time (as the name suggested). Either that, or that its facial structure are just so, something like a horizontal cleft.
See Category:Fauxghi for all the variants!
Description
Edit
Mushroom Garden

"Looks like Funghi,
but is he really?"

Mushroom Garden Deluxe

CLB-11

"Looks like a Funghi,
yet somehow isn't.
Looks weird, but
seems self-assured.

(?)

"

HLW-10

"Basically a Funghi costume, but the
dodgy element works.
Let's give him 3☆."
NEO Mushroom Garden

"Says he imitates a funghi.
Cried for days when he
was nicknamed Macaroon."
Theme Comments

Neo Factory : "Oh, I have an honest job. Really."
Fantastic Fest : "How did you wear that on your head?"
Funghi Academy : "I am no stranger. I am uh, new student."
Funghi Station : "Kids love this train master."
Funghi Castle : "Studies some weird faux magic."
Bike Rider : "Riding a faux bicycle."
Walk-A-Funghi

""Looks like a funghi,"
or so it says."
Lures (Walk-A-Funghi)
Edit
Click [Expand] to open collapsed information.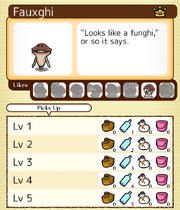 It contains spoiler of NEO Mushroom Garden.
Click [Expand] to open collapsed information.
Personality : Social
Skill : Mimicry
Favorite Line : Phantasmagoric
Favorite Place : Cosplay Shop
Charm Point : Macaroon-ish
Weak Point : Boastful Personality
Curious About : Chameleon Effect
Hates : Bad Impersonation