The Funghi is the titular mushroom for the Mushroom Garden series and was originally a character in the Touch Detective series where he played the role of Detective's Assistant.
Funghi is the most common of all the varieties of funghi and along with Withered has the distinction of appearing in every game and library.
Description
Edit
Mushroom Garden

"An edible Funghi. He works as an assistant detective."

Mushroom Garden Seasons

"Everyone loves our hero, Funghi. Nnf nnf!"

Mushroom Garden Deluxe

"Slimy mushroom that says, "nnf... nnf..."
Will happily jump into miso soup."

NEO Mushroom Garden

"Edible fungus that aims to take over the dining table. Wants to become the staple food."

Walk-A-Funghi

"Says 'Nnf Nnf.' The usual ones. Easy to collect."
Lures (Walk-A-Funghi)
Edit
Click [Expand] to open collapsed information.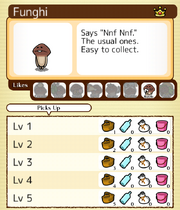 It contains spoiler of NEO Mushroom Garden.
Click [Expand] to open collapsed information.
Personality : Impulsive
Skill : Propagation
Favorite Line : Fungal Domination
Favorite Place : Wet and Cool
Charm Point : Lovely Eyes
Weak Point : Dryness
Cries : Nnf Nnf
Favorite Time of Year : October
Ad blocker interference detected!
Wikia is a free-to-use site that makes money from advertising. We have a modified experience for viewers using ad blockers

Wikia is not accessible if you've made further modifications. Remove the custom ad blocker rule(s) and the page will load as expected.