Goldie is one of rare variation of Funghi.
Appearance
Edit
Appears to be a golden Funghi based on the King of Egypt.
Description
Edit
Mushroom Garden

"Is that King Tut?
Nope, it's a Funghi."
Mushroom Garden Deluxe
DST-29, SPE-17

"Clearly a shockingly
valuable Funghi.
Who's tried to grow
a bunch of these?

(?)

"

HLW-24

"Basically the same
as usual! But Goldie
looks costume-y
anyway, so 3☆."
NEO Mushroom Garden

"Lives so high up on the hierarchy
he does not have many friends.
Actually his snake is the only one."
Theme Comments

Fung-Sea Castle : "Became friends with an octopus."
Funghi Mine : "Looks so good. As expected of Goldie."
5th Anniversary : "The snake does the work."
Riverside Camping : "Panning for some gold?"
Funghi Forest : "Shine, shine and shine more!"
Walk-A-Funghi

"Has creepy eyes,
but is really
a nice funghi."
Lures (Walk-A-Funghi)
Edit
Click [Expand] to open collapsed information.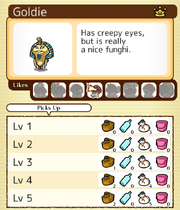 Goldie has the highest value of compared to other Rare Funghis.
In Mushroom Garden Deluxe, Goldie spawned by the Halloween Log is only 1000. Golden Medicine Goldie is still 10000.
It contains spoiler of NEO Mushroom Garden.
Click [Expand] to open collapsed information.
Personality : Mysterious
Skill : Curse
Favorite Line : El Dorado
Favorite Place : The Throne
Charm Point : Snake
Weak Point : Chin
Worries : Snake Rebellion
Next Life : A Simple Funghi