Goldie is one of rare variation of Funghi.
Appearance
Edit
Appears to be a golden Funghi based on the King of Egypt.
Description
Edit
Mushroom Garden

"Is that King Tut?
Nope, it's a Funghi."

Mushroom Garden Deluxe

SPE-17

"Clearly a shockingly
valuable Funghi.
Who's tried to grow
a bunch of these?

(?)

"

HLW-24

"Basically the same
as usual! But Goldie
looks costume-y
anyway, so 3☆."
NEO Mushroom Garden

"Lives so high up on the hierarchy
he does not have many friends.
Actually his snake is the only one."
Theme Comments

Fung-Sea Castle : "Became friends with an octopus."
Funghi Mine : "Looks so good. As expected of Goldie."
5th Anniversary : "The snake does the work."
Riverside Camping : "Panning for some gold?"
Funghi Forest : "Shine, shine and shine more!"
Walk-A-Funghi

"Has creepy eyes,
but is really
a nice funghi."
Lures (Walk-A-Funghi)
Edit
Click [Expand] to open collapsed information.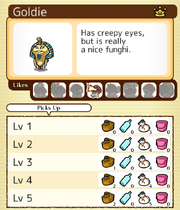 Goldie has the highest value of compared to other Rare Funghis.
It contains spoiler of NEO Mushroom Garden.
Click [Expand] to open collapsed information.
Personality : Mysterious
Skill : Curse
Favorite Line : El Dorado
Favorite Place : The Throne
Charm Point : Snake
Weak Point : Chin
Worries : Snake Rebellion
Next Life : A Simple Funghi
Ad blocker interference detected!
Wikia is a free-to-use site that makes money from advertising. We have a modified experience for viewers using ad blockers

Wikia is not accessible if you've made further modifications. Remove the custom ad blocker rule(s) and the page will load as expected.