Meanie is one of uncommon variation of Funghi.
Appearance
Edit
Appears to be a purple headed Funghi with edged sunglasses.
Description
Edit
Mushroom Garden

"A Funghi gone wrong!
But he still has a
tender heart."

Mushroom Garden Deluxe

NRM-26

"Pretends to be mean.
Loves sunglasses.
Just picks up litter
without even asking.

(?)

"

HLW-26

"Something feels like
it's totally wrong
Well, he's enjoying
himself, so 4☆."
NEO Mushroom Garden

"Is very shy and sort of a crybaby.
Thos mirrored shades are to
cover his tears."
Theme Comments

Funghi Heroes : "The Evil Boss with a heart of an angel!"
Nostalgic Home : "The most sweetest guy, in shades..."
Walk-A-Funghi

"Gather Bottle type
ingredient with its
Bottle!"
Lures (Walk-A-Funghi)
Edit
Click [Expand] to open collapsed information.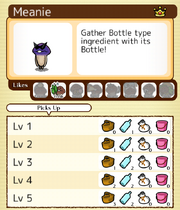 It contains spoiler of NEO Mushroom Garden.
Click [Expand] to open collapsed information.
Personality : Delicate
Skill : Picking up Garbage
Favorite Line : Duty and Sentiment
Favorite Place : Volunteer Work
Charm Point : Sunglasses
Weak Point : Pure Hearted Guy
Favorite Ride : Motorcycle
Always Carries : Spare Sunglasses
Ad blocker interference detected!
Wikia is a free-to-use site that makes money from advertising. We have a modified experience for viewers using ad blockers

Wikia is not accessible if you've made further modifications. Remove the custom ad blocker rule(s) and the page will load as expected.