Meowy is one of rare variation of Funghi.
Appearance
Edit
Appears to be a Funghi based on the animal Cat.
Description
Edit
Mushroom Garden

"Cats sure are cute!
But how did a Funghi
turn into one...?"

Mushroom Garden Deluxe

HNY-15

"Cat ears can make
anything look cute.
This is on another
level of cuteness.

(?)

"

HLW-27

"It's a cat.
It's just a cat.
But I somehow really
dig this, so 5☆."
NEO Mushroom Garden

"Does not have any fur, but by
instinct he tries to tend them.
Gets embarrassed when he does this."
Theme Comments

Fancy Garden : "Not domesticated."
Funghi New Year : "Now to catch some mice."
Funghi Station : "Station master. Likes to be on top."
Nostalgic Home : "Has a critical urge to pounce."
Walk-A-Funghi

"Gather Bag type
ingredient with its
Bag!"
Lures (Walk-A-Funghi)
Edit
Click [Expand] to open collapsed information.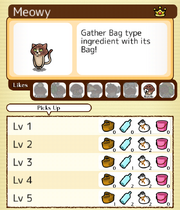 It contains spoiler of NEO Mushroom Garden.
Click [Expand] to open collapsed information.
Personality : Whimsy
Skill : Quick Punch
Favorite Line : Good Kitty
Favorite Place : Inside a Small Box
Charm Point : Mark on the Back
Weak Point : Tail
Like to be Pat on : Root of the Tail
Can't Resist : Catnip
Ad blocker interference detected!
Wikia is a free-to-use site that makes money from advertising. We have a modified experience for viewers using ad blockers

Wikia is not accessible if you've made further modifications. Remove the custom ad blocker rule(s) and the page will load as expected.