Oddball is one of uncommon variation of Funghi.
Appearance
Edit
Appears to be a scribbled Funghi that look doesn't relate to Funghi at all.
Description
Edit
Mushroom Garden

"It grew from a log,
but is this thing
really a Funghi?"

Mushroom Garden Deluxe

PUM-11

"Q: Is this a Funghi?
A: When harvested,
it says "nnf nnf",
so probably, yeah.

(?)

"

HLW-20

"The body paint is
too scary for kids.
The pumpkin is cute
though, so 4☆."
NEO Mushroom Garden

"Is in between the definition of
cute and odd. Any attempt of
contact resulted futile."
Theme Comments

Funghi Station : "Is sometime sold in the kiosk vendor."
5th Anniversary: "Is that a smile on your face?"
Bike Rider : "Oddball is wearing a helmet right?!"
Walk-A-Funghi

"Carries
many "Buckets."
All else is a mystery."
Lures (Walk-A-Funghi)
Edit
Click [Expand] to open collapsed information.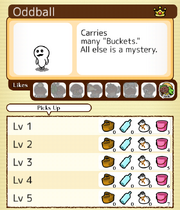 Ad blocker interference detected!
Wikia is a free-to-use site that makes money from advertising. We have a modified experience for viewers using ad blockers

Wikia is not accessible if you've made further modifications. Remove the custom ad blocker rule(s) and the page will load as expected.