Spicy is one of uncommon variation of Funghi.
Appearance
Edit
Appears to be a Funghi that based on Chili pepper, with yellow round eyes and saw-edged mouth.
Description
Edit
Mushroom Garden

"A super hot Funghi!
He's a hot-head, too."

Mushroom Garden Deluxe

NRM-15, FLO-18

"Visibly spicy. Has a
biting personality.
And the verdict is:
Mild, very mild.

(?)

"

HLW-15

"So, a ghost costume.
One like Veggie's
would've worked but
let it slide. 3☆."
NEO Mushroom Garden

"Spicy, but not as the Jolokia.
Tried to train his Spicy Muscle,
but where the heck is that?"
Theme Comments

Frisky Field : "I hope they mistake me as a bell pepper."
Riverside Camping : "It's just a grilled tomato. Trust me."
Cafe d'Funghi : "I like my cup with extra sugar."
Nostalgic Home : "Homemade kimchi in the container."
Tohato Paradise : "Spicy but good! Good but spicy!"
Funghi Forest : "Donde esta Mexico?"
Walk-A-Funghi

"Sounds very spicy,
but actually likes sweets."
Lures (Walk-A-Funghi)
Edit
Click [Expand] to open collapsed information.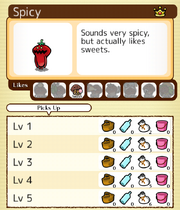 It contains spoiler of NEO Mushroom Garden.
Click [Expand] to open collapsed information.
Personality : Hot
Skill : Scoville Scaling
Favorite Line : Capsaicin
Favorite Place : Pepper Garden
Charm Point : Zig Zag Mouth
Weak Point : Clayx
Likes : Sweets
Secret : Glows in the Dark