Stretch is one of the common variation of Funghi. Not to be confused with Horsetail.
Appearance
Edit
As its name implied, it is an elongated version of Funghi.
Description
Edit
Mushroom Garden

"Have you ever seen such a tall Funghi? I didn't think so."

Mushroom Garden Deluxe

HLW-05

"Full-body compound fractures?!
Wow, take care, huh?
Just kidding. 2☆."
NEO Mushroom Garden

"Lay couple of them together and come back next morning. You will find them in a knot."
Theme Comments

Hush Hospital : "Is this how you use a crutch?"
Merry Christmas : "Oh my, this boot is used."
Funghi Hinadan : "Can you fetch me a stretch?"
Ghostly Bridge : "Reaping what you sow?"
Nostalgic Home : "Oh boy, parent teacher conference."
Tohato Paradise : "Can be used as a POTECO stand."
Bike Rider : "Spent all savings on Tasty Co.'s Road."
Walk-A-Funghi

"Long funghi. There are rumour that some grow very VERY long."
Lures (Walk-A-Funghi)
Edit
Click [Expand] to open collapsed information.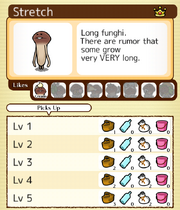 It contains spoiler of NEO Mushroom Garden.
Click [Expand] to open collapsed information.
Personality : Short Tempered
Skill : Tie a Knot
Favorite Line : Live Long and Prosperous
Favorite Place : Long Island
Charm Point : Height
Weak Point : Tummy
Wishes : Longer Legs
Dream Body : Muscular Slim
Ad blocker interference detected!
Wikia is a free-to-use site that makes money from advertising. We have a modified experience for viewers using ad blockers

Wikia is not accessible if you've made further modifications. Remove the custom ad blocker rule(s) and the page will load as expected.